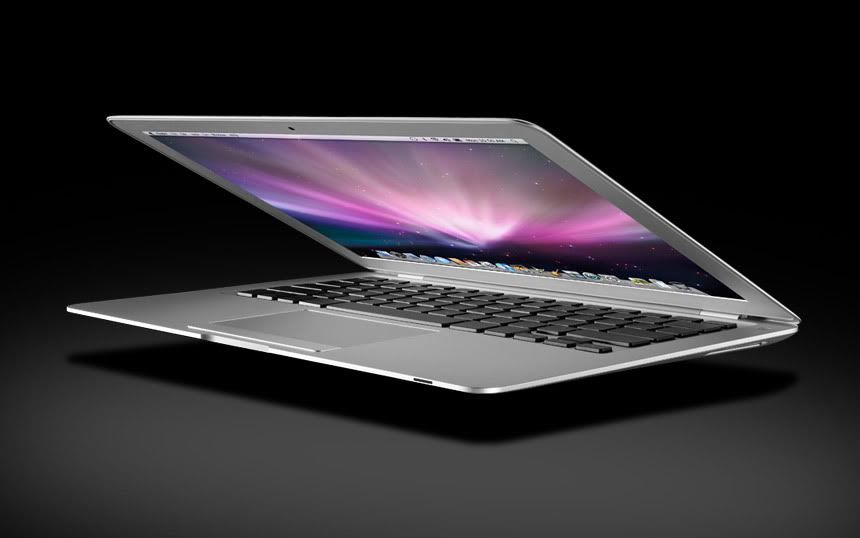 WHAT MAKES IT SPECIAL?
IT'S THE WORLD'S THINNEST LAPTOP AND IT LACKS A CD/DVD DRIVE
WHY DOESN'T IT HAVE A CD/DVD DRIVE?
THEY WANTED IT TO BE THE THINNEST
BUT ISN'T IT BETTER TO HAVE A CD/DVD DRIVE?
YES
OH

You see, I am an Apple fanboy, a devoted one. My body holds both a fashionista and a techno-freak, so it's not hard to see why I'm seduced by Apple's attention to detail and commitment to perfection. But...
If I've written this post now and not hours ago the minute after it was introduced is because I wanted to wait and see if I found a way to like it, I thought I'd maybe learn to love it. But I haven't. By the pictures I saw of the Macworld conference I was shocked with its thinness, but it was just because I fell to its trickery to look much thinner than it actually is, then when I knew all about it I was terribly disappointed. This feeling was to expect at this year's conference cause last year's saw the introduction of the iPhone and not every year is going to see the birth of something so big, but that's not the reason to my disappointment, a new design for the MacBook line would've been disappointing, this? this is just stupid.
I hate to have such a strong and bad opinion about an Apple product but I can't help it. I hate it.
Whenever PC users want to criticize macs they say these are all about a pretty face, lacking real everyday functionality. This new laptop is basically the shameless reaffirmation of that flawed philosophy, and the worst part is that I don't even like the design. What I love about the current MacBook Pro (which I have) is that it's so honest in its perfection. It's symmetric, sharp, clean, straight, perfect. As the iPhone, you feel it doesn't exceed or lack anything, it's futuristically restrained. This new one brakes that philosophy with its shrinking form and other visual lies to make it look perfect when posing in certain angles.
But truth is OK, my design theory particular beliefs aside, this is a one sexy piece of hardware and once you have it in your hands and people turn their heads it feels good (I assume). Thing is looks aren't the problem with it. To make it so thin they've basically taken a MacBook, disposed of most of the connectivity ports, the CD-DVD drive and the replaceable battery, dropped down some technical features and raised the price. Violà! The thinnest laptop in the world! Then where does the Air dub come from? Well, to make up for the lack of CD and connectivity, they've made up some bullshit about it being born to be wireless blah blah. I'm still trying to buy this, as wireless is been around for almost a decade, only the MBA needs another computer with a CD drive to wirelessly send in the info you need from a CD (I thought Jobs said MBA users wouldn't miss a CD drive). Oh and if you wanna watch movies? You rent them in the new iTunes Movie Rentals for as low as $2,99 to $4,99 (seriously that's the solution they give you), oh, US only for the moment. There's more to make fun of but this post is already too long and too angry for a peaceful little angel like me.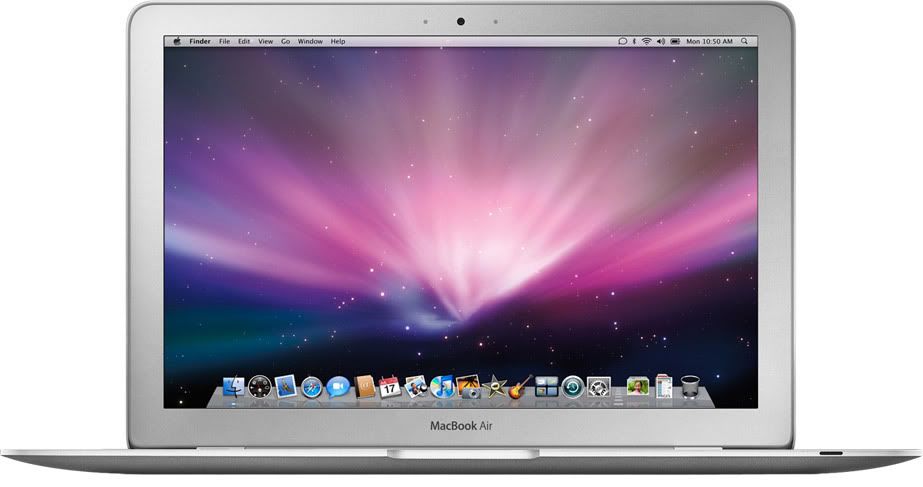 One of the wet dreams we had about today's conference was the presentation of the "MacBoock Tablet", but it didn't seem very likely lacking a consistent target audience. But what is the audience of the MBA? Someone who... has a desktop Mac, wants a portable, but only to carry it to the bed, and doesn't mind spending $1800 to that purpose? Or... a man in the midlife crisis who already has a motorcycle and a sports car? Or...
☛ Plenty of pictures and info at Apple.