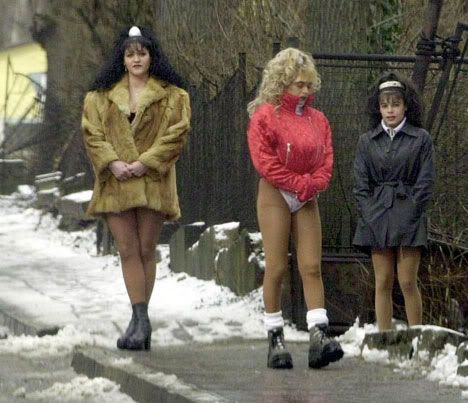 While I was in Paris
I had the chance to experience that beautiful moment every little girl dreams about: being offered prostitution.
Again
. In my hometown it was sort of to be expected cause I in fact reside right in Whora Felatio Street with Tranny Latino Boulevard, but c'mon, in chic Paris?
In my defense I'll disclose
that the amount was five hundred euros... and a limousine home. Now that's class, innit? By the pre-proposition chatter with the guy, I got that apparently he had quite the moneys, traveling from Australia all the time because he worked in a company that blah blah marketing blah blah name dropping of household brands blah. Most of the time he was just telling me that I was "fucking
gaw-jaz
" (that's gorgeous in Australian). That was in the meantime of him buying me a drink, which I grudgingly accepted because I figured being honest never got anyone much far, and as my budget was comfortably spilling out from restrain I decided I could use some help from my pretty face to get some help for my wallet.
When the big bald spicy-
breathed
sir
suggested he wanted to pay for something more than a drink that night, I pulled my best
aw I shouldn't've accepted the drink
performance. I have to say, I'm good at it. With my refusal he went from three hundred, to four, to five, that's for just half to one hour in his hotel and then the car home, he said "limousine", I'm gonna assume it'd be more like a car with a driver. I'm just too modest to believe that. The reason why I believe he had the moneys is because as good tacky money person, he had a stack of bills on hand, and well, I think I saw all the five hundred euro bills I had to see in this life, I'm done.
So in the end
, me and my catholic apostolic fucking romanic values went home with a French Poor to a thirteen square meters 'apartment'. I'm telling you, being respectable sucks. But I'm lying like the whore I am, it's not values that stopped me, it's apprehension. If he had been Richard Gere I would be now the star of
Pretty Woman: Havanna Nights
, where the movie ends with a sky view of me driving my Hummer through a San Francisco-like bridge, having two iPhones as earrings, listening to Daft Punk featuring Ciara, very loud, moving my arms up with a big smile.