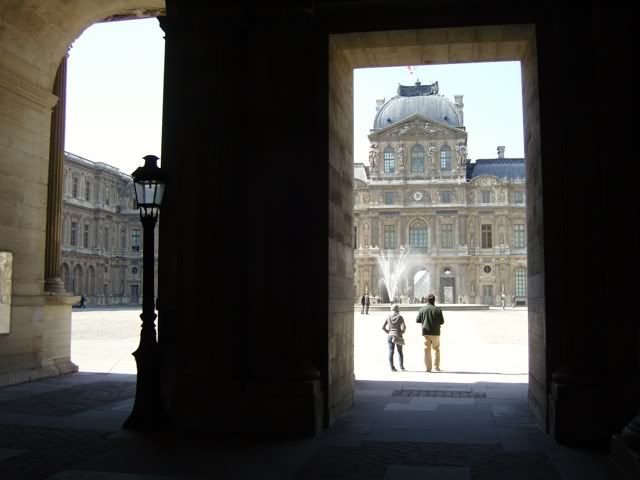 OK so I haven't blogged in almost
two months, get over it I always do this! Anyway moving on. Last week I was in Paris, and well, gawd. I mean, Paris!!
It was my first time there as an
adult and I always had wanted to go (duh) so I finally booked a cheap-ass flight from my current swedish whereabouts and went by myself. Yep, all alone. I know, but as I like to say 'if you wait for someone to be ready to go with you to Paris you will end up a pregnat teenager addicted to glue'. That saying sounds much wiser in chinese really. Everytime I told someone I was going alone I would end up saying that I knew people there, not to be embarrassed and get the 'you're a freak' look.
B
ut the truth is all on my own
it was such a magical experience. In general it was so Carrie in the
Sex And The City
finale, just wandering around, going to museums, etc. But then in the weekend even though I thought I wouldn't go out (cause going out alone was a little too freaky even for me), I realized that gay people is so friendly that just by asking someone where some bar was I would automatically be invited to go out. That was in my naive little mind, and well, in reality... that's exactly what happened! I'm telling you, being gay is sometimes a blessing. Can you imagine that happening in the hetero world?
So just the first couple of gays that
I stopped turned out to be so funny and open and we went to this place called CUD, which was your standard tacky gay night bar, with a floor downstairs to dance and stuff. It was loads of fun. When they decided to go I was drunk enough to stay on my own, and then I run into some friend of a friend of a friend from my hometown back in Hot España Olé (for realz), and he introduced me to his group of friends. I bonded with one of them, Pablo, who's the sweetest thing I have ever seen in my life. Sweet sweet sweet pie. Doll. 29 years old. Refreshing. So I was with them until some french guy came and stole me and we ended up putting on the most dismal show one can put on in one's life: the sexual dancing in a night club.
Okay I'm sowy!
I was drunk and he kissed well! Lame excuse I know, there's no excuse for doing the 'porn show'. Well at least we weren't in the middle, I took it to the privacy of the place next to a table agaist the wall. At least one side of the baby-making live-documentary was censored. You gotta give me some credit for that. That's lame excuse number two. So when I decided frolicking was one thing, getting fingered in public was crossing the line, he suggested we took it to his home. And so we did. And the rest is what happened in Paris and stayed in Paris.
The next day we said
goodbye and though we later talked and he said I could go out with him and friends, I thought I'd be better off going to a club with Pablo and friends, and so I did, and so I discovered that Paris is a great place for being single and gay, because even though I didn't hook up with anyone, the amount of people and the vibe in that place (called Bataclan) were really uplifting. Pablo was his doll self and I liked him even more, I wanted to hug the fuck out of him.
Next day was coming back to reality day
. By noon I'd be back in Nyköping (Sweden) once again, working and having claustrophobia attacks here and there. And even though Paris' weather had been incredibly gentle my whole stay, it'd be gray and sad in my leave. That's how I imagined it, in reality... that's exactly how it happened. It had all been a cotton-candy musical dream and I suddenly woke up from it with the cold of the scandinavian snow in my face.